Tag Archives:
Lubbock – Texas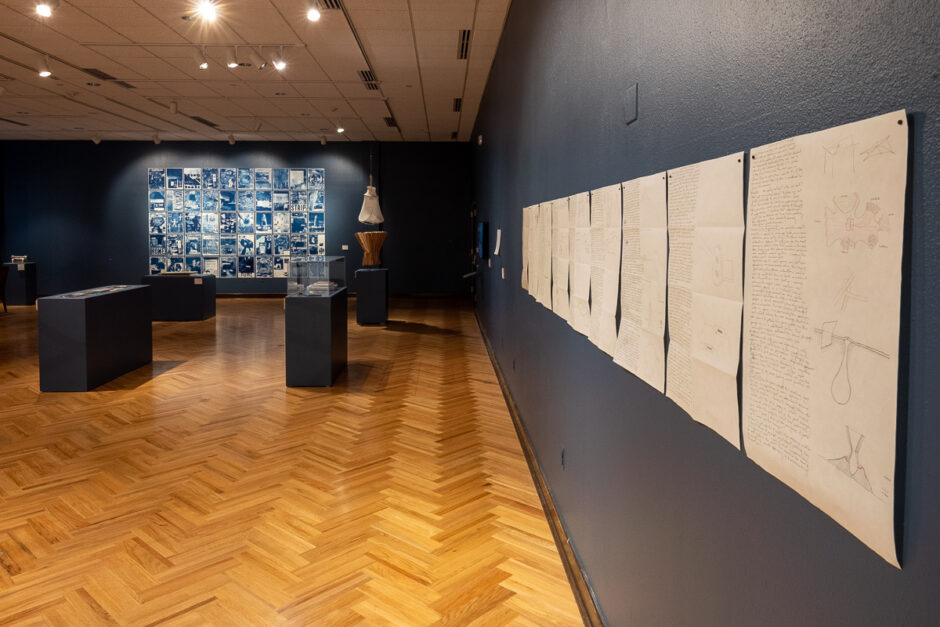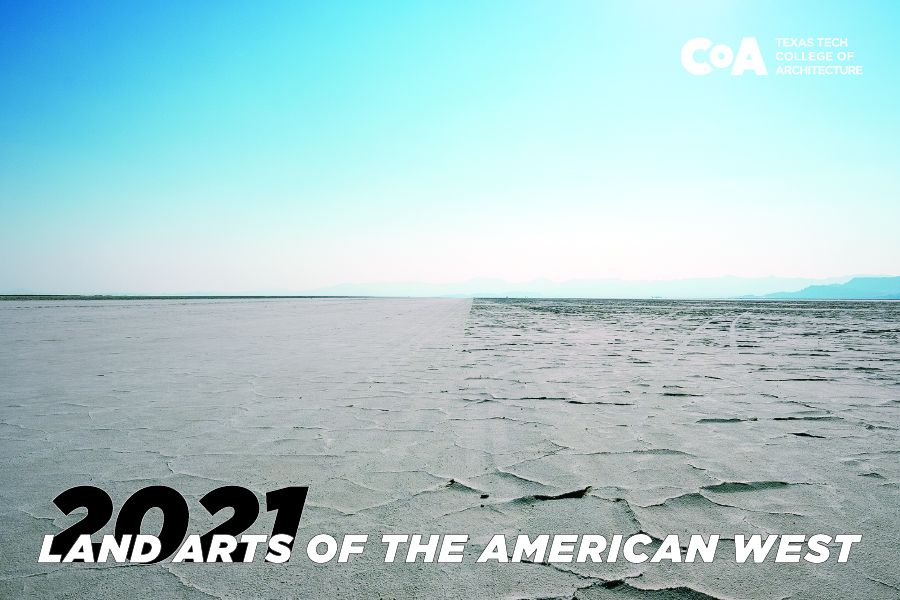 Land Arts 2021 Exhibition
Texas Tech University College of Architecture and Museum of Texas Tech University announce the
LAND ARTS 2021 EXHIBITION.
The opening reception will take place from 6-8 p.m. Friday, February 18, 2022, in Leonardo's Kitchen at the Museum of Texas Tech University at 3301 4th Street in Lubbock, Texas.
The exhibition culminates the semester-long transdisciplinary field program Land Arts of the American West presenting documents and constructions by students Maria Amador, Jef Biesinger, Wills Brewer, Talia Brown, Christoffer Eide, Meghan Giles, Joshua Haunschild, Penelope Leggett, and Amber Noyola. Within the Texas Tech University College of Architecture, Land Arts is a "semester abroad in our own backyard" where architects, artists, historians, and writers camped for fifty nights while traveling 5,837 miles overland to experience major land art monuments—Double Negative, Spiral Jetty, Sun Tunnels, The Lightning Field—while also visiting sites expanding our understanding of what land art might be such as pre-contact archeology of Chaco Canyon, scientific exploration at the Very Large Array, and military-industrial operations in the Great Salt Lake Desert. To negotiate the multivalent meaning of these places and shed light on strategies to aid their comprehension we invite the wisdom of field guests—writers, artists, and interpreters—to join specific portions of our journey. 2021 field guests included Matt Coolidge and Aurora Tang of the Center for Land Use Interpretation, artist-filmmaker Deborah Stratman, musician, artist, curator, and soundworker Rebecca Gates, and curator at Chinati Foundation Ingrid Schaffner. Land Arts hinges on the primacy of first-person experience and the realization that human-land relationships are rarely singular. The Land Arts 2021 Exhibition will continue through April 17, 2022.
Gallery Hours and Events
The exhibition is open Tuesdays through Saturdays 10am – 5pm and Sundays 1-5pm. Admission is free.
###
About Land Arts 2021
The Land Arts 2021 field crew includes participants Maria Amador an architect, PhD candidate in Seville, Spain, Jef Biesinger an environments designer and artist in Chicago, Wills Brewer an artist based in Los Angeles, Talia Brown a writer/artist, Hampshire College graduate, Christoffer Eide an artist from Oslo, Norway, Meghan Giles a poet/writer, PhD candidate at Texas Tech, Joshua Haunschild an artist/photographer with MFA from Arizona State University, Penelope Leggett a landscape architect with BLA from UC Berkeley, and Amber Noyola an architecture M Arch candidate at Texas Tech.
Sites on the 2021 itinerary ventured from Cebolla Canyon and Jackpile Mine to Muley Point, Goblin Valley, Spiral Jetty, Sun Tunnels, Center for Land Use Interpretation Wendover, Double Negative, North Rim of the Grand Canyon, Trick Tank, Chaco Canyon, Marfa, Cabinetlandia, Chiricahua Mountains, Mimbres River, Plains of San Agustin, The Lightning Field, Two Buttes, White Sands, and Lubbock.
Field guests for 2021 were Matthew Coolidge, Noémie Despland Lichtert, Gretchen Dietrich, Curtis Francisco, Rebecca Gates, Jesse & Irma Larriva, Colleen O'Brien, Monty Paret, Ingrid Schaffner, Brendan Sullivan Shea, Deborah Stratman, and Aurora Tang.
Land Arts 2021 field season was made possible with generous operational support from Andrea Nasher, the James Family Foundation, and Matti and Henry Brown. This was also the first year with the Land Arts Support Vehicle possible with a gift from Owl Call Radio.
Chris Taylor, director of Land Arts of the American West at Texas Tech, leads the program and was assisted in the field by Phil Jackson from Philadelphia and Austin.
About the College of Architecture
The College of Architecture at Texas Tech University is located in Lubbock where architectural education has been offered since 1927. The college includes undergraduate, graduate and PhD students and over fifty faculty members. Graduate certificate programs are offered in Digital Design Fabrication, Health Care Design, Historic Preservation, Urban and Community Design, and, Land Arts of the American West, as well as an interdisciplinary doctoral program in Land-Use Planning, Management, and Design.
About the Museum of Texas Tech University
Established in 1929, the Museum is an educational, scientific, cultural, and research element of Texas Tech University. It is a not-for-profit institution by virtue of being a part of Texas Tech University. The Museum's purpose is to support the academic and intellectual mission of Texas Tech University through the collection, preservation, documentation, and research of scientific and cultural material and to disseminate information about those collections and their scientific and cultural topics through exhibition, interpretation, and publication for primary, secondary, and higher education students, the scholarly community, and the general public. The Museum aspires to provide the highest standard of excellence in museological ethics and practices, while pursuing continuous improvement, stimulating the greatest quantity of quality research, conservation, interpretation, exhibition, and education, and providing support for faculty, staff, and students. The Museum is a multi-faceted institution that includes the main building, the Helen Devitt Jones Auditorium and Sculpture Court, Moody Planetarium, Natural Science Research Laboratory, and Lubbock Lake Landmark, an archaeological and natural history preserve.
Land Arts 2021 Exhibition at the Museum of Texas Tech University will take place within Leonardo's Kitchen, a gallery of new ideas, research, and creativity established to present a changing array of exhibitions that examine the research and creativity of Texas Tech University across science, technology, engineering, math, humanities, and the arts.
###
For additional information about Land Arts of the American West at Texas Tech or to schedule an interview with Chris Taylor contact him by phone at 806-834-1589 or email at chris.taylor@ttu.edu. Information about the College of Architecture can be found at http://arch.ttu.edu, and the Museum of Texas Tech University by visiting https://www.depts.ttu.edu/museumttu/.