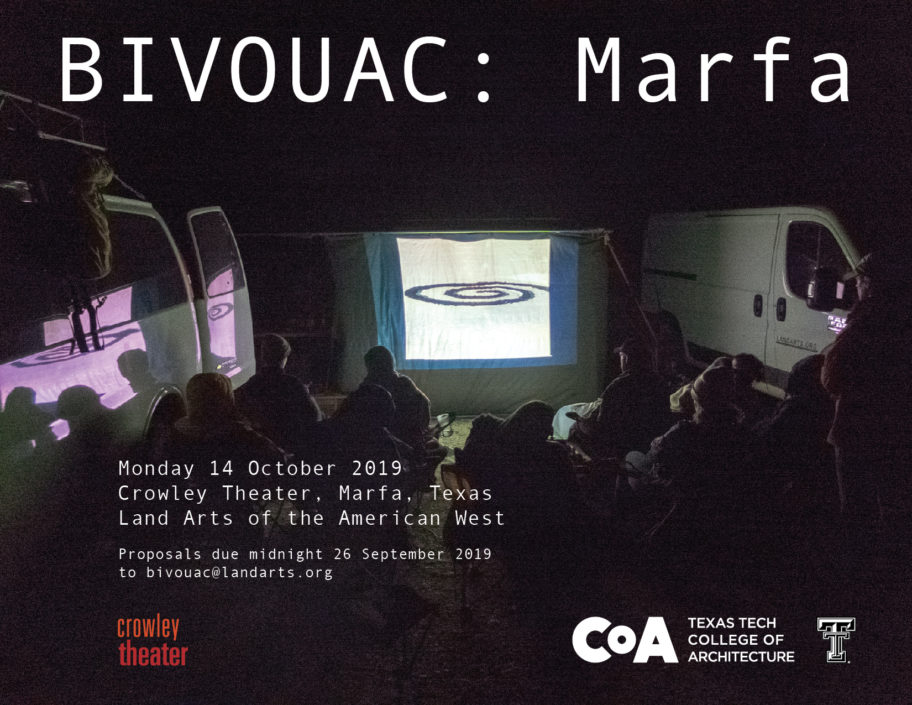 Place: Crowley Theater, Marfa, Texas
Date: Monday, 14 October 2019, 9 am to 6 pm
To bivouac is to set up temporary camp—without tents or cover—in unfamiliar terrain. BIVOUAC: Marfa is a day-long symposium and public dialog for students to test emerging bodies of work at mid-semester. Following on the heels of Chinati Weekend, this is a chance to percolate and generate new ideas in one of the most inspiring intersections of art, architecture, landscape, and ambition—located in West Texas.
Format and documentation: Lively 8 minute-long multimedia presentations will be interspersed with moderated feedback and discussion. Documentation of the symposium will be disseminated through landarts.org.
BIVOUAC: Marfa is hosted by Land Arts of the American West at Texas Tech University, a transdisciplinary field program based in the College of Architecture that is dedicated to expanding awareness of the intersection of human construction and the evolving nature of our planet.
Proposal Submission Guidelines: Proposals are encouraged from students working in the field and on campus, at Texas Tech or elsewhere. Collaborative proposals are welcome. Proposals should be emailed to bivouac@landarts.org no later than midnight 26 September 2019. Include proposal title in the email subject line, attach to the body of the message a single PDF containing a short description (150 words or less) with supporting visual/acoustic materials, your name, phone number, and one-sentence biography. All presentations limited to eight minutes and all submissions will be acknowledged. 
Proposal Review Process: Proposals will be evaluated, based on their potential to spark diverse and energetic dialogs, by an interdisciplinary panel of Texas Tech faculty and respondents.
Proposal Review Calendar:
Proposal submission deadline: 26 September 2019
Notification of acceptance: 3 October 2019
Attendance notification deadline: 5 October 2019
Presentation submission deadline: 11 October 2019

Please, direct questions or inquiries to Chris Taylor, Director of Land Arts of the American West at Texas Tech.