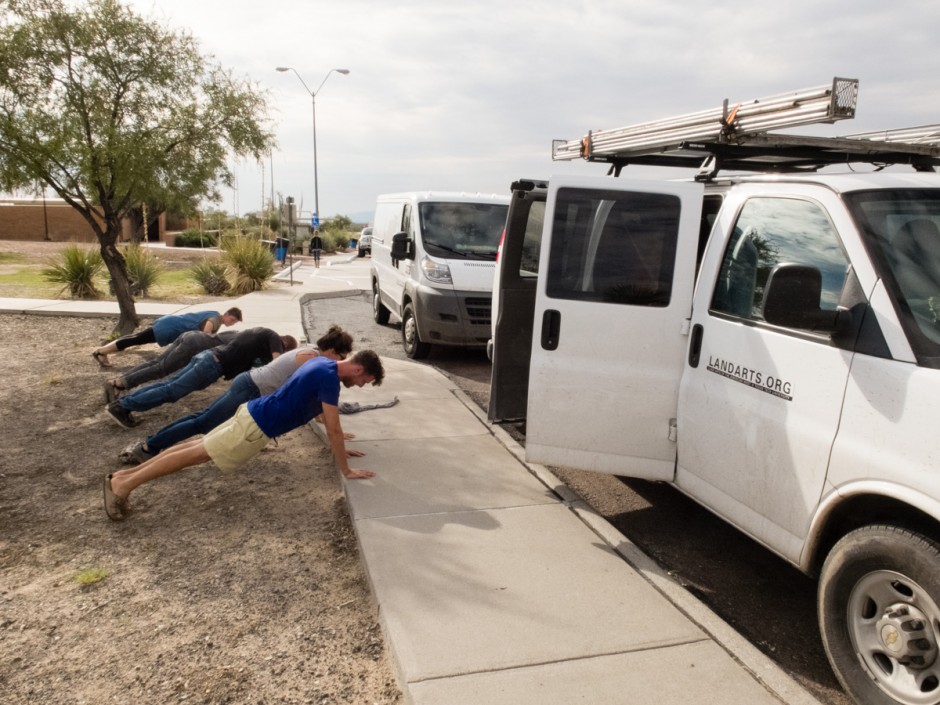 Syllabi + Program Materials
Itinerary
3-6 Sep — Cebolla Canyon, New Mexico
4 Sep — Jackpile Mine, Laguna Pueblo, New Mexico
6-10 Sep — Muley Point, Cedar Mesa, Utah
10-12 Sep — Goblin Valley, Utah
12-14 Sep — Spiral Jetty, Rozel Point, Great Salt Lake, Utah
14 Sep — Sun Tunnels, near Lucin, Utah
14-21 Sep — Center for Land Use Interpretation, Wendover, Utah
21-23 Sep — Double Negative, Mormon Mesa, Nevada
23-25 Sep — North Rim of the Grand Canyon, Arizona
25-27 Sep — Coconino Forrest, Arizona
27-29 Sep — Chaco Canyon, New Mexico
Participants
Maria Amador, architect, PhD candidate in Seville, Spain.
Jef Biesinger, environments designer and artist in Chicago.
Wills Brewer, artist based in Los Angeles.
Talia Brown, writer/artist, Hampshire College graduate.
Christoffer Eide, artist from Oslo, Norway.
Meghan Giles, poet/writer, PhD candidate at Texas Tech.
Joshua Haunschild, artist/photographer with MFA from Arizona State University.
Penelope Leggett, landscape architect with BLA from UC Berkeley.
Amber Noyola, architecture, M Arch candidate at Texas Tech.
Phil Jackson, photographer and builder based in Austin, TX (Program Assistant)
Chris Taylor, architect and associate professor at Texas Tech (Program Director)
Field Guests