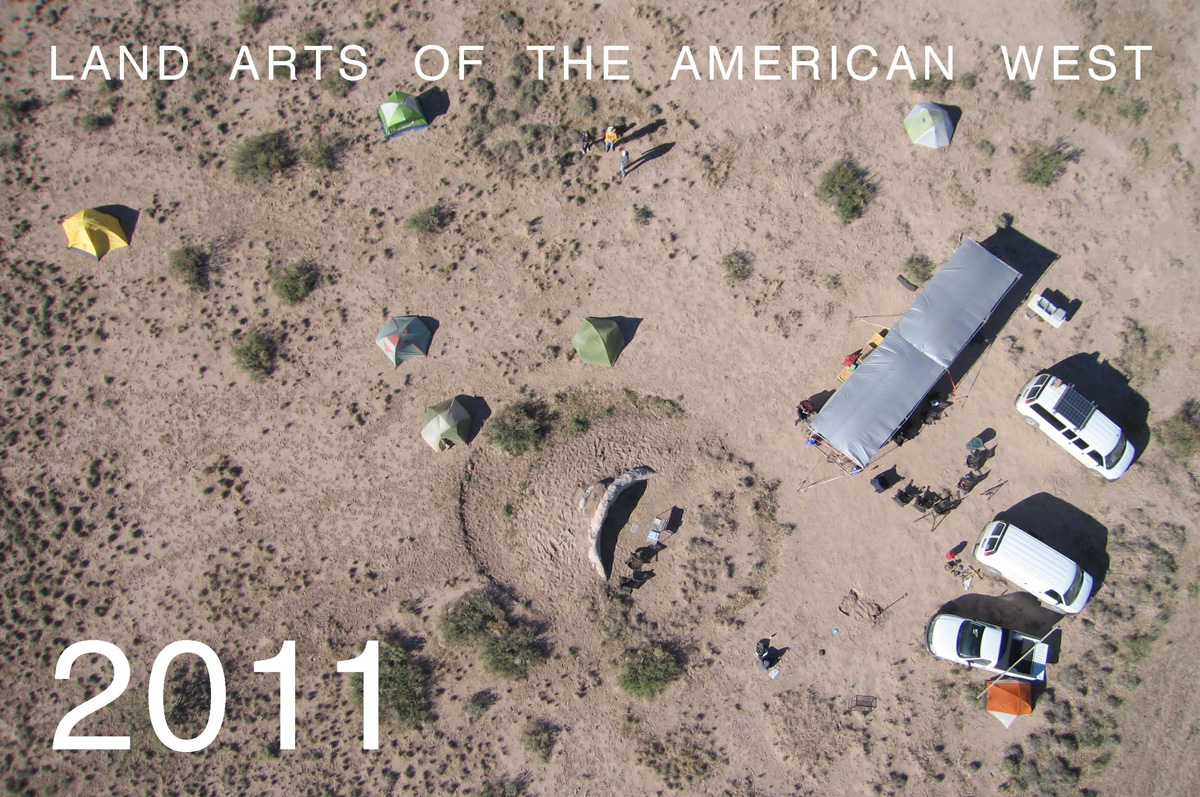 Land Arts 2011 Exhibition
Texas Tech University College of Architecture and the Louise Hopkins Underwood Center for the Arts (LHUCA) announce Land Arts 2011 Exhibition. An opening reception will take place from 6-9 p.m. April 6, 2012 at the new LHUCA Warehouses at 1001 Mac Davis Lane in Lubbock, Texas.
The exhibition culminates the semester-long transdisciplinary field program Land Arts of the American West at Texas Tech in the College of Architecture and presents documents, objects and constructions by students Alexander Bingham, Luis Bustamante III, Will Cotton, Winston Holloway, Richard Klaja, Celeste Martinez, Zachary Mitchell, Carl Spartz, Rachael Wilson, and Bethany Wood. Chris Taylor, director of Land Arts of the American West at Texas Tech, leads the program and was assisted in the field by Texas Tech alumni Adrian Larriva. Students traveled 6,000 miles visiting locations across the Southwest camping for two months as they explored natural and human forces that shape contemporary landscapes—ranging from geology and weather to cigarette butts and hydroelectric dams. Land Arts 2011 field season was made possible with generous operational support from Andrea Nasher and student support from the James Family Foundation.
The exhibition will open with a reception on Friday, 6 April 2012 from 6 – 9 pm in conjunction with the First Friday Art Trail. The exhibition will be on view through 28 April 2012 on Saturday afternoons from noon to 4pm and by appointment. To set up an appointment contact Chris Taylor by phone at 806-392-6147 or by email at chris.taylor@ttu.edu.
—–
About Land Arts
Land Arts of the American West is a field program investigating the intersection of geomorphology and human construction. Land art or earthworks begin with the land and extend through the complex social and ecological processes that create landscape. Encompassing constructions that range from petroglyphs to roads, dwellings, monuments and traces of those actions, earthworks show us who we are. Examining gestures small and grand, Land Arts directs our attention from potsherd, cigarette butt, and track in the sand, to human settlements, monumental artworks, and military-industrial installations. Land Arts is a semester abroad in our own back yard investigating the American landscape through immersion, action and reflection.
Land Arts of the American West operates autonomously from the University of New Mexico College of Fine Arts and theTexas Tech University College of Architecture. Land Arts 2010 field season at Texas Tech was made possible with generous operational support from Andrea Nasher and student support from the James Family Foundation.
The 2011 Texas Tech field crew was composed of art and architecture students from Texas Tech. Future years will continue to broaden the transdisciplinary involvement from students across the Texas Tech community and participants from outside the university. The 2011 field itinerary included: White Sands, Chaco Canyon, Jackpile Mine, Laguna Pueblo, The Roden Crater Project, Double Negative, Sun Tunnels, Spiral Jetty, Bingham Canyon MIne, Center for Land Use Interpretation Wendover, Muley Point, Moon House, Marfa, Valentine, Cabinetlandia, Gila Hot Springs, Mimbres River, Chiricahua Mountains, Coolidge Dam on the San Carlos Apache Indian Reservation, Plains of San Agustin, Very Large Array, and The Lightning Field.
About the College of Architecture
The College of Architecture at Texas Tech University is located in Lubbock where architectural education has been offered since 1927. The college includes 850 undergraduate, graduate and PhD students and 50 faculty members. Graduate certificate programs are offered in Historic Preservation, Visualization, Community Design, Rural Health Care Design, and Digital Design Fabrication, as well as an interdisciplinary doctoral program in Land-Use Planning, Management, and Design. To extend the academic offerings on campus every undergraduate student participates in directed summer study abroad offerings in places such as Montreal, Paris, Seville, Valparaiso and Verona. The presence of Land Arts within the college expands the range of field study connecting teaching and research directly to landscapes we inhabit.
About the Louise Hopkins Underwood Center for the Arts
The mission of the Louise Hopkins Underwood Center for the Arts is to inspire and enrich our community by being a catalyst for the arts. Celebrating eleven years of serving our community, LHUCA is proud to announce this fabulous addition of the Warehouses on Mac Davis Lane and Studio Flats as part of the expanding LHUCA Campus. Our campus, located on a two city block area of downtown Lubbock, is the heart of the cultural district. The campus includes the FireHouse Building with a state-of-the-art theatre and four exhibition galleries, the Helen DeVitt Jones Clay Studio, and the IceHouse that provides rehearsal, event and gallery spaces. The Graffiti Building, equipped with a classroom and teaching gallery space, will open in April of this year. The newly acquired Warehouses will provide alternative exhibition and studio spaces for creative works that reach beyond the traditional gallery presentation. Land Arts 2010 Exhibition will demonstrate the flexible use of this space and serve as a magnet for the cultural growth and educational dialog between creator and viewer. The Board of Trustees and staff of LHUCA invite you to join us in celebrating the redevelopment and renovation of the cultural heart of Lubbock.
###
If you would like more information about Land Arts or to schedule an interview with Chris Taylor contact him by phone at 806-392-6147 or by email at chris.taylor@ttu.edu. Additional information about the College of Architecture can be found by contacting Jess Schwintz at 806-742-3169, ext. 247 or visiting http://arch.ttu.edu, and the Louise Hopkins Underwood Center for the Arts by visiting http://lhuca.org.